Welcome to Ahavath Achim Synagogue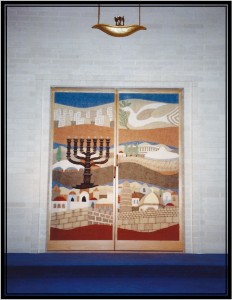 Congregation Ahavath Achim
Shalom and welcome to the home page of Congregation Ahavath Achim. A Conservative Congregation located in Tyler, in the heart of East Texas. This web site was created to provide information to the members on upcoming events and tell potential newcomers about Conservative Jewish life, in our region.
About Us
In 1898, a few Jewish families decided to form a congregation, and named it Ahavath Achim, which means brotherly love. These two elements of Brotherhood and Love were integral parts of Tyler's Jewish history. This spirit of gracious hospitality is extended to every newcomer.
We are an egalitarian congregation dedicated to providing a home for traditional observance, study and gathering for East Texas's Jewish community. Through our many activities, we strive to serve Judaism and our members. We offer regular Shabbat and holiday services, where men, women and children take an active role.
We realize that Jewish education of young and old is vital for our future and therefore we offer many educational programs. Through our Hebrew School, Sunday School and Adult education classes, we enrich the Jewish life in East Texas.
We are proud of our rich history and we are dedicated to maintaining a bright future for our children.
COVID-19 ATTENDANCE UPDATE
Our Synagogue is open for Saturday services and this is our current attendance policy:
Services are only for members and invited guests. If you would like to attend, please first contact the Synagogue or the Rabbi.
YOU ARE RESPONSIBLE FOR YOUR PERSONAL HEALTH
CAREFULLY WEIGH RISKS BEFORE CHOOSING TO ATTEND SERVICES IN PERSON
Do not plan to attend services in-person if:

You currently have COVID-19
You know you have been exposed to COVID-19 within the last 14 days
You have fever or have had fever within the last 14 days
You have health conditions that put you at increased risk for COVID-19 infection/complications
You are unwilling, as a matter of personal choice, to wear a face mask or face shield in the building

All persons ten years of age and older are required to wear a mask, at all times, when in the synagogue. Wearing a face shield that wraps around the sides of the wearer's face and extends below the chin is acceptable for those persons who have personal medical or physical difficulties that prevent them from safely wearing a mask. However, either a mask or a shield is required at all times, in all locations, including the sanctuary, all hallways, and other rooms within the synagogue building. Our services are online for those who cannot wear either.
To reduce droplet spray effectively – sneeze/cough into your elbow, even when wearing a mask.
Check your temperature at home just before you come to the synagogue to assure it is within the normal range.
Use hand sanitizer immediately when you enter the synagogue.
Wash your hands or use hand sanitizer before touching your eyes, nose, and mouth.
Maintain at least six feet between you and other congregants.
Family members may sit in seats beside each other but must socially distance six feet from other individuals.
Seating arrangements require one empty row between occupied rows.
Three empty seats are required between individuals and between individuals and family groups.
Parents are responsible to supervise their children at all times and to assure the children comply with social distancing requirements when around other congregants who are not members of their family.
The total number of seats and seating arrangements are necessarily limited to approximately 35 adults and their accompanying children, due to distancing requirements. So long as we can maintain one row and three seats between family groups and individuals, we will gladly seat additional attendees, as they arrive. Please arrive at 9:00 AM for services to assure your seat and to be present to help us make a minyan for Torah services.
NOTICE – You are responsible for your own health. The synagogue is not responsible for and cannot assure your health and safety relative to COVID-19 exposure. COVID-19 can be totally without symptoms in some people (asymptomatic). An asymptomatic person carrying active COVID-19 may be completely unaware that they have the virus, which is why everyone is required to wear a mask or face shield when inside the synagogue to protect themselves AND others. Additionally, if you are in a high-risk group or have health issues, we strongly recommend that you weigh your specific risks very carefully before choosing to attend services or other group activities.
CAA Covid-19 Plan Poster [Rev. 2020-10-19: TB]
For any other questions, please contact: Business Office: Leanne French ( caasecretery@suddenlinkmail.com )
A Message From Our President
Shalom!
Welcome to Congregation Ahavath Achim!
As you read through our website to gain insight to our congregation, I hope you will note the talents of the many people involved in various aspects of our activities and worship. Being a small egalitarian congregation means each and every person is valuable and necessary to our existence.
Recently one of our members built a raised garden bed full of tomatoes, cucumbers and herbs for the Sisterhood to use as they prepare the weekly Shabbat brunch. Another member is using his talents to rebuild wooden stands for our two large vases. Other volunteers applied their talents to develop this website you are exploring. Parent volunteers provide support each month as we gather students from two years old to sophomores in high school for Sunday School. Individual women volunteer their time each week to plan, shop and prepare Shabbat brunches for up to 40 people. The kitchen is always a busy place with other women coming in to assist as needed. Our young people assist in services as they are able, especially beginning with Ein Keloheinu through the end of the service. One member began a library/chapel renovation by organizing and refurbishing our books and upgrading the Judaica items. A group of ladies catalogued and refurbished our historical textiles, waiting to display some of the Torah Mantles and other items. We have one lady who makes sure the Yahrzeit lights are set each week. The list continues on and on.
We are family, not just members of a congregation who see each other on High Holidays. We welcome you to come visit the family at any time. Our family is growing and looks forward to greeting more "relatives" as we expand.
Shalom,
Ruth Elmakiss